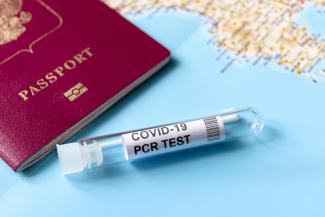 On December 2, the Biden Administration released new guidelines for inbound travelers to the U.S., including U.S. citizens.
U.S. Citizens Required to Test Within One Day of Travel
On Monday, December 6, 2021, both vaccinated and unvaccinated people two years of age or older will have to take a COVID test one day before entering the United States. No quarantine is required after entering the United States.
As of today, December 4, there are no comprehensive COVID-19 testing sites or locations worldwide. However, here are two resources available for the public.
Mask Mandate Extended
The Biden Administration will continue to require masking during international or other public travel – as well as in transportation hubs such as airports or indoor bus terminals – through March 18. Fines will continue to be doubled from their initial levels for noncompliance with the masking requirements – with a minimum fine of $500 and fines of up to $3,000 for repeat offenders.
Resource Links (Updated December 3, 2021):
Related News Item