At 4 p.m. on Tuesday, Sept. 22, 2015, Pope Francis is expected to arrive in Washington D.C., the capitol of the United States at the Joint Base Andrews military facility.
Image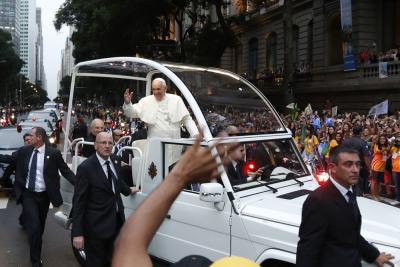 This will be the pope's first stop for his visit to the United States before he travels on to New York and Philadelphia. The following day, the pope will meet with current President Barack Obama, pray midday prayer with bishops at St. Matthew's Cathedral, and canonize Blessed Junipero Serra during a Mass at the National Shrine of the Immaculate Conception. On Thursday, the pontiff will deliver a speech to a joint-meeting of Congress, pay a visit to St. Patrick's Cathedral, and visit several Catholic charities associated with the Archdiocese of Washington.
Follow this link to learn where you can see the pope without a ticket.
Past Papal Visits to White House
Historically, Pope Francis' predecessors, both Pope Benedict XVI and Pope John Paul II, also visited Washington D.C. in their trips to the United States. In October of 1979, at the end of his visit to the United States, Pope John Paul II became the first Pope to visit the White House, meeting with President Jimmy Carter. On April 15, 2008, Pope Benedict XVI arrived in the U.S., landing at the Andrews Air Force Base in Washington D.C. There he was met with warm welcome from President Bush, Laura Bush, their daughter Jenna, an honor guard of military servicemen and a crowd of 5,000 military family members.
Numbers for attendance are expected to be high for Pope Francis' upcoming visit to the United States. Contact us for your hotel travel needs!